Manual based on years of experience in global education sector.It includes besides the project results,details and information about global citizenship and global education as well a detailed curriculum for developing basic Global Citizenship Competencies
Origine et objectifs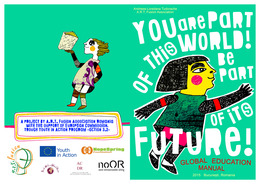 Aims of the tool
This publication is intended to represent a tool for global citizens and global educators in their work with various groups around the world. The ultimate goal is to contribute to building a critical mass of global citizens needed in the world. The reader can find inside insights about the context of global education, the need for global citizens, more details about what is a global citizen is, methodological guidelines for a global educator and a detailed curriculum for developing basic global citizenship competencies.
Description of the tool
You can download it from here:
In order to clarify what you can find or not in this manual, depending as well on how new or not you are to the field we made the following specifications:
– If you are a person that is totally new to the field of global education and global citizenship, we consider that the first chapters (till the curriculum part) are more relevant for you because they include details about background, concepts, reasons, motivation and examples of behaviours of global citizens. We hope it will motivate you at least to read and explore further and to work on yourself as a global citizen.
– If you are a beginner in the field, in the sense you know some things, you are concerned about some topics, already implementing some changes in your life and trying to work step by step with yourself as a global citizen (whether you call it that or not) – The first chapters will help you better structure and connect the things you already know and maybe give some additional insights and depth. If you are also interested in becoming a global educator the second part of the manual definitely will be of help
– If you are a beginner global educator, a responsible and active global citizen that has already started (or considering) to deliver some workshops on these topics to various groups but still is at the beginning, then the first part of the manual will give you structure and help you talk about these things more easily and the second part will provide you with alternatives for your workshops and support you methodologically.
– If you are an experienced global educator and looking for a handy tool where to find in one place almost all that you need to train new global citizens (if you agree with our terminology and approach in the field) this manual represents that and will help you a lot.
– If you are super experienced and you are looking for something that will revolutionise all that you know, mind blowing and unique activities or for something to train advanced global citizens, or to train global educators this is not the tool for you but it can give you some fresh ideas or inspiration (but we do not promise that).